As early as 1950, the population growth in the southeastern part of Dayton created the need for increased high school accommodations that were apparent to the community and to the Board of Education.
On May 8, 1952, the Board of Education approved the purchase of 10.37 acres of land from Mr. Herman Matheny for a cost of $35,000.00. Since some state property was involved, a special act of the state legislature was required. Two parcels of land totaling approximately seven acres were purchased on July 2, 1953, from the City of Dayton for a cost of $16,000.00.
The Board of Education, taking into consideration the immediate need for other schools in the city, decided to put up a school large enough for the number of pupils foreseen in the upcoming years, but with fixed facilities for future expansion.
The architectural firm of Hart, Igleburger, Wurst & Associates, (now known as Hart & Hart), was appointed on January 19, 1953, to prepare preliminary building plans. Once the site was assured, they were authorized on August 27, 1953, to proceed with final plans and specifications.
The Belmont cornerstone was laid on May 12, 1955, with Mrs. Evelyn List and Mr. Robert E. Kline, members of the Board of Education, officiating.
Belmont High School opened its doors on September 10, 1956, with a student enrollment of 892 in grades eight through eleven. Seniors were not enrolled at Belmont that year, as they were permitted to graduate from the high schools they had been attending.
With an alert and efficient corps of teachers, a full academic program was immediately started, including athletic teams, band, orchestra, choir, drama groups and all the other normal high school functions.
The first meeting of the Belmont High School Parent-Teacher Association was held on October 17, 1956, in the school auditorium. That night, six hundred and nine parents and teachers became charter members of the PTA.On October 31, 1956, Belmont High School was dedicated to the Dayton community. The ceremony began at 7:30 p.m., in the school auditorium and lasted approximately forty-five minutes. The Belmont High School band and choir performed for a crowd of over two-thousand people and the ceremony ended with the choir singing the Belmont High School Alma Mater.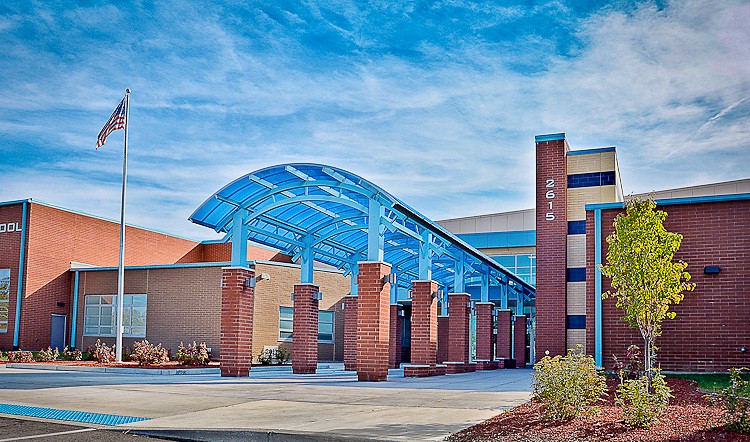 On March 29, 2012, the last brick fell as the original building was razed.
The new building opened it's door for the 2011 – 2012 term.
A very nice "Farewell video" was produced by the Staff and Students of the Class of 2011 and can be seen on YouTube. "A Final Look at Dayton's Belmont High School
Past, Present . . . . (Future?)!